Welcome to VIPBox . Please enjoy a wide selection of free live streams collected from around the net.
Go to the VIPLeague (the new name for VIPBox) homepage, press the category you want to see, then look down the list for the event you want to see. Press a link (link 1, for example), a new tab will open. You will need to wait until the advertisement counts down; once the ads gets to "0" seconds, the player will automatically start to play. Alternatively, you can click the small x on the ad to close it.
You can find answers to most  common issues in the VIPLeague FAQs & Help section and site news in VIPLeague News.
The VIPBox website and game time is set default to GMT. On the schedule page there is a clock at the top. Click on +/-GMT to set the clock to your time zone.
This automatically changes the clock and all the game times to your local time wherever you are in the world. Any time is vipbox time!

On the right of the VIPLeague & VIPBox schedule page are 'Live Now'  'Top Events' and 'Upcoming Events' features.
Click these to see any events currently live, main events and events coming up in the next 2 hours.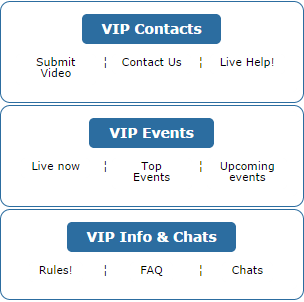 Here at VIPBox we  try to keep the schedule updated and correct as much as possible but unfortunately mistakes happen occasionally.
TIME:
1. Please make sure your site clock is set to the correct time.
2. Sometimes event times are based on broadcast or streaming schedules so may differ from official starting times.
NAMES, ICONS & FLAGS:
At VIP Box we try to use officially recognized names, icons and flags for teams, events or countries. This may sometimes cause confusion or offence to some.
DATES:
The site is set default to GMT. If you set the site clock to your local time then game times change.
If you can't find what you are looking for on the schedule then please let us know by using Contact Us or tell us in Live Help Chat.
For events due to start soon Live Help is usually the quickest way.
There are various rankings VIPBox uses for feeds:
Primary Flash Stream This is usually the best and most reliable stream.
Official HQ/HD Feed This may be an official feed for an event.
Popular Flash Stream These streams are good and usally reliable.
Regular Flash Stream Sometimes lower quality or various languages.
More Flash Streams Streams which may use special players.
P2P Stream P2P streams may require a download.
External Flash Feed
Betting Stream Betting streams require (usually free) registration.
Audio/Radio Feed(No video) Audio only.
Usually the Primary Flash Stream is the best and most reliable. If you have slow net or an old pc however, you may want to look for a lower quality stream if available.
If you have any trouble viewing on VIPLeague or VIPBox  please check the list below for a possible problem:
Black screen
1. If the stream is for a live game, check the time to see if the game has started. Streams generally start around 10-30 minutes before the start of the game but some feeds may only start a couple of minutes before live game is due to start. Refresh links on the main page and load the link again.
2. Make sure you are using the recommended browser for that link.
3. Certain streams may not load if you are using Ad Blockers or certain privacy programs. Disable them and load the link again.
4. Some links require a specific player, such as TVU, sopcast or WMP. Links should be provided on the page.
5. Streams usually come on within a few seconds but some streams take longer to load. Wait a minute.
6. There may be a technical problem with the link. Inform the admins in chat.
The stream is stopping /buffering /freezing /lagging.
There may be several reasons:
1. The stream may have a high bitrate which causes buffering on lower internet speeds or older PCs.
2. Your PC may be not running at optimum levels. Close other windows or background programs.
3. Clear your cache
4. You may be connected to a bad server. Reload the stream.
5. There are busy times where player servers may be working at capacity which may cause some freezing or lagging. Either try an alternative player or wait until the servers are less busy.
6. There may be a technical problem with the link. Inform the admins in chat.
VIPLeague and VIPBox hope you enjoy the games, and be sure to bookmark the site!