Welcome to the VIPLeague blog. Previously known as VIPBox, whatever name you know us by, the quality and commitment to delivering the best live streams remains the same.
Use the top menu of this blog site for general information and the left side category menu for specific event information.
VIPLeague  is your one stop site for all your sport and viewing needs and, even better, everything here is FREE! We've tried to make it as easy to use as possible without the need to download and install unfamiliar software found on most other sites. Please bookmark VIPLeague and enjoy! We are always trying to update, improve and grow. If you have a suggestion or request, let us know.
VIPBox or VIPLeague shows you all sports, free & live, we provide links for all major sporting events, movies, TV channels and more so you can watch trouble-free. We do not host links on site but provide reliable, safe and high-quality streams from external sources that you can watch on our site.
You can find answers to most  common issues in the VIPLeague FAQs & Help section and site news in VIPLeague News.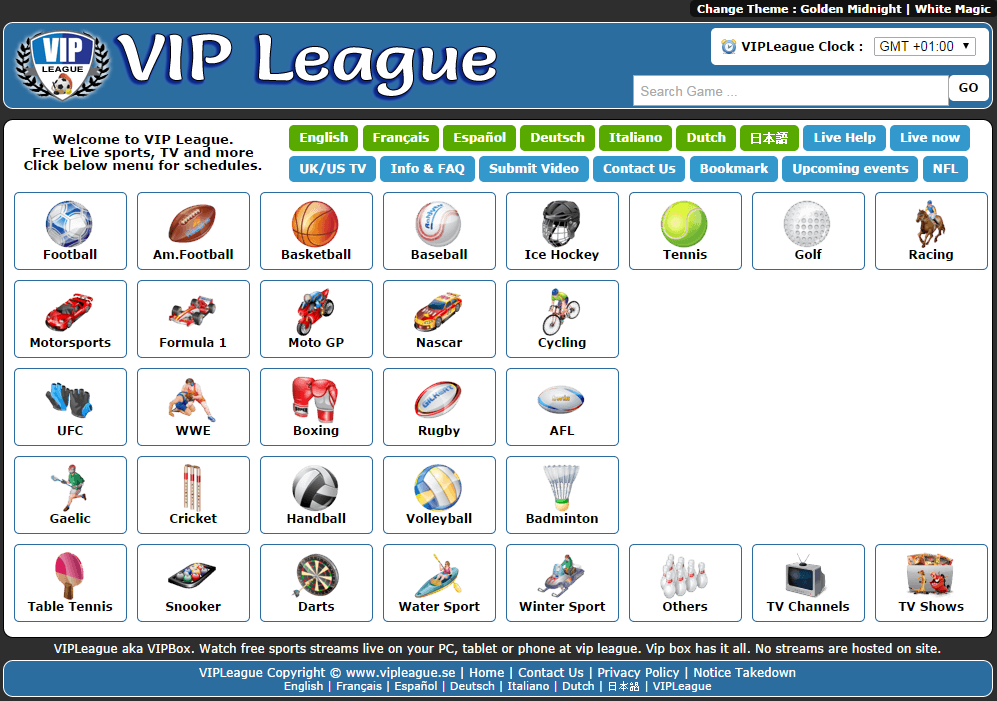 Go to the VIPLeague  homepage, press the sport you want to see, then look down the list for the event you want to see. Press a link (link 1, for example), a new tab will open. You will need to wait until the advertisement counts down; once the ads gets to "0" seconds, the player will automatically start to play. Alternatively, you can click the small x on the ad to close it.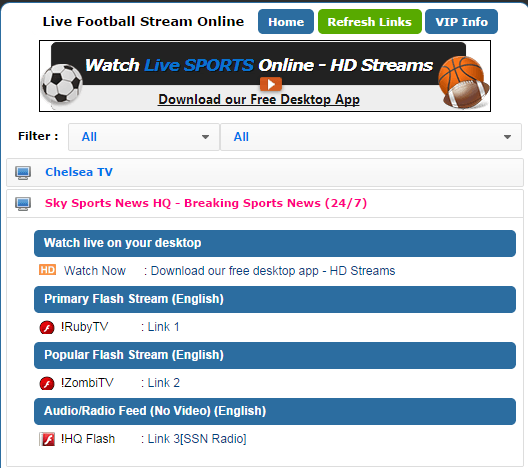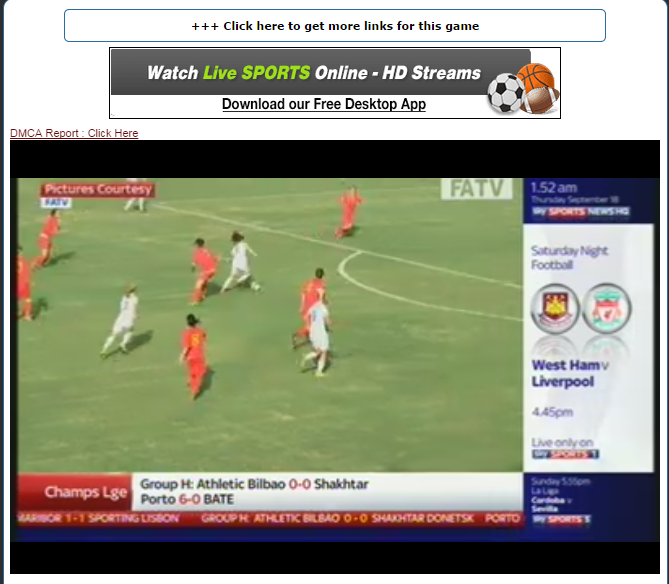 You don't need any special downloads. Almost all feeds use Adobe Flash which is the Internet standard to view Internet videos. You must have this installed to view the streams/feeds.
The schedule on VIPLeague is constantly updated and new events are added all the time. To find something quickly you can use the search function at the top of the schedule page. Simply type in a keyword, example 'news' and all listings containing that keyword will show. Alternatively you can use the FILTER to check specific leagues, competitions or genres. If you still can't find what you are looking for then either use Contact Us or let us know in Live Help Chat.
Different streams listed on VIPLeague use different players. For most players double click on the screen. For other players, the full screen function is usually bottom right of the player. Unfortunately, in some rare cases, there is no full screen option. You may not be able to go full screen if you use adblocker.
At present, streams on VIP Box / VIPLeague are only viewable on android devices using Firefox with flash installed.
Android
https://play.google.com/store/apps/details?id=org.mozilla.firefox
Mac
Firefox with flash or Photon browsers can be used for iOS
https://support.mozilla.org/en-US/kb/install-firefox-mac?redirectlocale=en-US&redirectslug=Installing+Firefox+on+Mac
VIP League / VIP Box is a social site and we have various chat options and methods of feedback. Chat should open automatically about 2 minutes after you load the stream page. When chat opens there will be a Close Chat feature in yellow just above. Simply click this to close chat.
If you want to use chat after closing it, then click VIP Info (blue box on the stream and schedule page or CHATS on the right menu of the schedule page). Click on the chat you want to use. You can also use Live Help chat for any specific issue or Contact Us on the right menu.